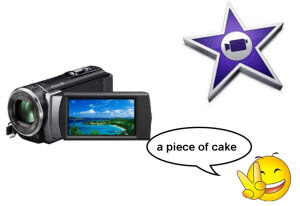 Have shot a lot of video clips and want to add background music to them and make a new vivid video for your speech? You can seek help from iMovie, a professional video-editing app developed by Apple. Let's see how to import camcorder video into iMovie together.
Steps to Import Camera Videos into iMovie
1. Before getting started, make sure you have installed iMovie on your Mac computer. Then you can turn on your camcorder and Mac.
2. Connect your camcorder to Mac via the supplied USB cable, and select USB Connect on the camcorder. Now iPhoto on your Mac (if there is) may automatically open, just close it.
3. Open iMovie by clicking on the iMovie icon on the Dock or using the Finder Bar.
4. Once iMovie is launched, select File on the top of iMovie window, and then navigate down to Import from Camera/Camcorder, tap on it to open Import window.


5. Now videos in your camcorder will be displayed in the iMovie Import window. You can transfer all videos into iMovie by clicking on the Import All button at the lower right; or you can select Manual from the lower left to choose videos to be imported manually, and then press the Import Checked option.


6. Then a pop-up window shows up. Here you can choose a destination folder to save your videos. You can also choose to add it to an existing event or create a new event. Then hit Import button. Within seconds, the importing will be finished. You need to click Done in the iMovie Import window. Your videos will be listed in the lower left section of the window.


Troubleshooting Tips and Additional Help:
1. If you can't import videos, please try the following:

Close your camcorder and restart it.

Reconnect your camcorder to your Mac computer.

Quit and reopen iMovie.

Restart your computer.

Try another USB cable. Maybe there is something wrong with the original one.

Try another computer where iMovie is installed.
2. For more information on importing camcorder video clips to iMovie, open iMovie and choose Help and then iMovie Help or Video Tutorial.
Above are steps to transfer videos from a camera to iMovie and some tips to help you when you are faced with problems in the process of importing. After importing videos into iMovie, you can use it to edit these videos, add background music or add subtitles to videos.