For Mac users, iMovie might be one of the most frequently used video-editing applications. With iMovie, we can create Hollywood-style trailers and stunning video and photo clips. While, today we are not going to talk about how to edit a project in iMovie, instead, we'll cover how to recover an iMovie project on Mac when you lost due to accidental deletion, iMovie application crash, virus infection, system error, etc. There are 4 different methods for retrieving iMovie files under different situations.
Recover iMovie Files from Trash
If you accidently deleted an iMovie project, it is a good idea to try to retrieve the lost project from Mac Trash Bin. No matter your project is under construction or it has been exported as a .mp4 viddeo, the deleted files are still recoverable in Trash. If you locate the lost iMovie clip in iMovie, please drag the file to iMovie projects folder in Movie folder on Mac, and open it in iMovie.
Retrieve iMovie Project from iMovie Library
Sometimes you could have created multiple files and events and messed them up. In this case, you can try to restore the latest clips or events from iMovie project library.
Open Finder on Mac, and go to Movies folder, and you should see folder named iMovie Events or iMovie Projects. Check whether your project or events is located. Double clicking a file will restore to iMovie.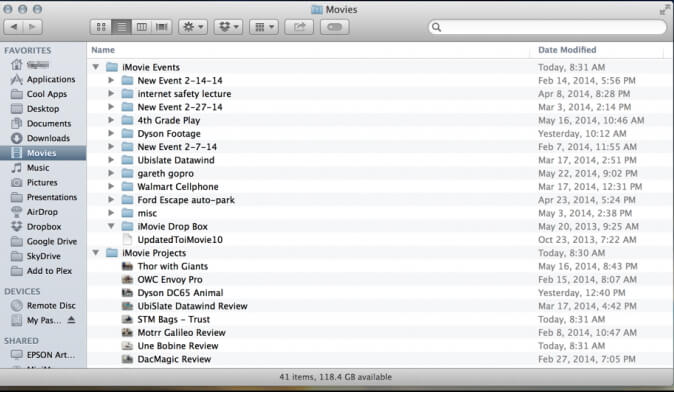 How to Restore iMovie Project from Time Machine
If you have a Time Machine backup of the lost iMovie project, it is possible to restore it.
1. Open Finder on Mac and navigate to Movies > iMovie Events/Projects folder.
2. Launch Time Machine. If your backup files are saved in external HD, please plug the external hard drive where your backups are saved to Mac. You can click the arrow to "go back in time" and pick a version of the iMovie project that you want to restore. Once you locate the iMovie clip, right-click on it and choose "Restore to …" option in the popup menu. Another window will appear for you to choose the folder to restore the project to. Choose the Movies > iMovie Project folder.
3. The iMovie event/project now has been restored successfully to you in iMovie.
Recover iMovie Videos/Photos Using iMovie Recovery Software
If you have emptied the Trash folder, or you do not have a Time Machine backup, you still have chance to get back the lost iMovie files with a iMovie Recovery software – Any Data Recovery Pro.
Highlights of the iMovie Files Recovery Tool
Recover lost, deleted, trashed, or formatted iMovie projects/events.
Retrieve iMovie clips after deletion, iMovie application crash, etc.
5 recovery modes help you retrieve all lost files with high success rate.
Easy to use iMovie photos and videos recovery software.
Quick Guide to Start iMovie Recovery
Step 1. Data Recovery for Mac provides 5 different recovery modes. Please select "Lost File Recovery" as your first attempt.
Step 2. Locate the volume or partition that your iMovie project were lost from, and click Scan button to search for lost iMovie files.
Step 3. After scanning, all recoverable files are displayed by folders. You can search file name in the search box or in the iMovie library folder.
Step 4. Select the files you need and click Recover button. Note that you should not save the recovered iMovie files back to the original partition or volume to avoid overwritten.
In this article we troubleshoot different kinds of iMovie data loss scenarios and explore most 4 feasible ways of recovering iMovie projects. After iMovie files are recovered successfully, you can continue with the editing in iMovie and export the project as an .mp4 files. If you want to play the iMovie exported files on iPhone, iPad or share it with friends, you should convert the MP4 files to other formats. An iMovie Converter will assist you to convert iMovie files to any other regular or HD video formats.