With iMovie you can easily edit your videos and add a lot more special effects to your iMovie videos. Once you've made a great video with iMovie, the first thing come to your mind is to upload the iMovie video to YouTube so that all of your friends can watch the video.
How to Upload iMovie Projects to YouTube
Part 1: How to upload iMovie '11 to YouTube
1. In iMovie, open a project or select it in the "Project Library". Make sure it is the one you want to upload, then click the share button in the menu bar. Under the menu bar, select "Share", you will then get options like iTunes, Media Browser, YouTube. Select "YouTube".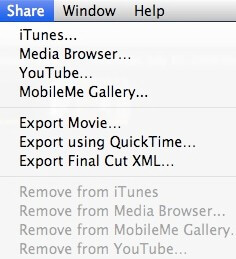 2. Choose and log into your YouTube account. If you don't have one, create one first.
3. Fill in the information in the pop-up menu. These include Password, Category, Title, Description and Tags.
4. Select the size for the iMovie video you are to publish. The "Sizes to publish" table shows which sizes are compatible with YouTube, and the resolution of each size (how many pixels it contains).

Available Sizes are:
Tiny 176x144 (iPhone or iTouch)
Mobile 480x272 (iPhone, iTouch, Computer, MobileMe, or YouTube)
Medium 640x360 (iPod, TV, Computer, MobileMe or YouTube)
5. By default, the video is only viewable to contacts you specify on YouTube. Then you can move on by checking Next > Publish.
Part 2: How to upload iMovie 10 (iMovie 2013) to YouTube
1. Select a movie, trailer, or clip in the browser.
2. Click the Share > File. Click Next in the pop-up window.
3. From the next dialogue, you could enter a name in the Save As field. If you don't enter a new name, the default name will be the original name.
4. Finally you need to find a location to save the video, and click Save.
Note: In the latest iMovie, iMovie 10.0.8, YouTube uploader has been upgrade to API 3.0 to retain ability to upload directly from iMovie after April 20th. Older versions of iMovie can no longer upload to YouTube directly due to API 2.0 being killed off 3 days prior.
If your Mac doesn't support the latest iMovie, you can convert iMovie videos to YouTube supported formats with an iMovie Video Converter which will help you convert iMovie to 100+ formats. With this converter, sharing and watching iMovie is simpler than ever.
Supported YouTube File Formats
YouTube allows users to upload videos in the following formats. And you can convert your iMovie videos to the following formats before uploading them to YouTube.
.MOV .MPEG4 MP4 .AVI .WMV .MPEGPS .FLV .3GPP .WebM