If you watch YouTube on the Google Chrome, firefox or Safari, you will be frustrated with the YouTube fullscreen problem, when you try to full-screen a video sometimes results in ugly white space around the edges instead of an enlarged video. No worries now, here you can find detailed guide on how to troubleshoot YouTube fullscreen not working problem on Chrome, Firefox and Safari.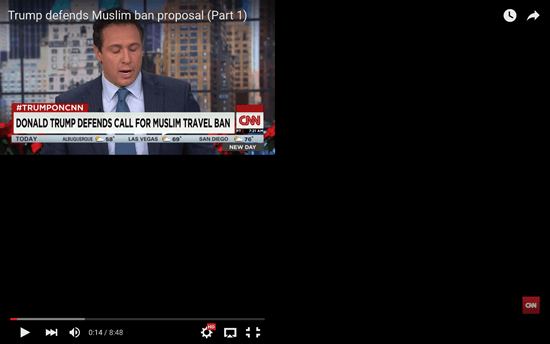 Part 1:Fix YouTube Fullscreen not Working on Chrome
Google Chrome is one of the most popular web browsers, so let's begin with fixing YouTube videos not playing in full screen mode on chrome. The fix could be surprisingly easy.
Step 1: Just go to your Chrome address bar, type "chrome://plugins" and hit "Enter", you'll see a list of all installed plugins. Then, click the "Details" button.
Step 2: Scroll down and find "Adobe Flash Player." If you see 2 Adobe Flash Players, skip to next step. If there is only one, you need to download a new Adobe Flash Player. Open a different browser, like IE or Firefox and go to adobe.com and follow the instruction to download and install flash player.
Step 3: Go back to Chrome plugin page and find the Flash plugin with the line and click "Disable". Disabling this flash player allows the browser to use the latest flash version that you have installed on your computer.

Step 4: Restart Chrome to see if everything is fine.
Part 2: Fix YouTube Fullscreen not Working on Firefox
If you want to watch your favorite videos in Firefox and then you encounter the YouTube full screen problem, it is usually because of a bug in the version of Firefox that you are using. Here's what you can try:
There are a lot of methods that you can use to fix this issue. One is by running system restore as follows.
On your computer, go to the Windows or Start button, and then type System Restore in the search bar.
When the System Restore dialog box opens, follow the prompts until you finally restore your system to an earlier time before the update.

You can also fix this problem by disabling flash hardware acceleration using the following procedure.

Go to the Adobe Flash Player page, and then hold down the Control key on your keyboard while clicking on the flash player logo.
And then click on Settings on the context menu to open the Adobe Flash Player settings screen.
On the bottom left corner of the window, click on the icon to open the display panel.
Look for "Enable hardware acceleration" and then remove the checkmark.
Part 3: Fix YouTube Fullscreen not Working on Safari
You may also experience the YouTube full screen not working when you are using Safari, you can try the tutorial below to fix it.
Step 1: Go to Finder > Applications. Scroll down your applications list until you find the Safari Right-click the Safari icon and choose Get Info from the context menu.
Step 2: Click the check box next to "Open in 32-bit mode". Then, close and exit out of Safari Info window.

Step 3: Launch Safari and navigate Safari > Reset Safari > Reset to reset Safari.
Another way to fix YouTube videos fullscreen not working on in Safari is to cleanup website data and removing cache. If you attempt to play the YouTube videos and there aren't any improvement shown when in full screen mode, you can uninstall Safari from your computer, and then do its clean reinstallation. If there were any bugs in the browser, they will be fixed after completing the reinstallation.
Actually, the best way to solve YouTube fullscreen not working is to download YouTube videos for offline playback, here we highly recommend Video Converter Genius to help you download whatever you want.
Hope these methods on how to solve YouTube videos won't full screen on safari, chrome, firefox worked for you. In case you still have the problem while watching YouTube in full screen, you can leave comments below.