You may be attractive by large numbers of funny gif images on social media frequently. Occasionally, you may find that only a GIF can mobilize the conversation atmosphere, and can talk about so much topics. Have you ever got an idea to make animated gifs from videos by yourself? If the answer is yes, then you come to the right place! Since most of the GIF can be cut from Video, we will discuss the top 3 best video to GIF converters for Windows in this tutorial.
Top 1. CutoMe
Which is the top one video to GIF animator in the world so far? In my point of view, CutoMe is the perfect tool to create unforgettable moments to any situations that supports running Windows or Mac. No matter your video is from YouTube, Netflix, WhatsApp, Facebook, Vimeo, or any other online websites, you can download it with video downloader and then insert it to CutoMe and prepare to crop target video clips to GIFs at any time. I promise it is so easy to do that within 2 minutes.
With this magic video to GIF converter in hand, your daily life will make a difference, you will finally find that life could be so funny while chatting with your friends and sharing interesting GIF expression.
Key Features:
1. Support all input video formats. For example, AVI, MP3, MP4, WMV, MPG, M4V, MOV, DV, 3GP, FLV, Facebook, YouTube, Vimeo, etc.
2. Customize output formats. You can keep outputting the original format, or change it to GIF, JPG, YouTube, Facebook, WhatsApp, etc.
3. Output formats support all mobile devices. Such as, iPhone, iPad, iPod, Samsung, HTC, Huawei, Xiaomi, etc.
4. Simple and nonintrusive operation interface. The interface is just like a pair of scissors. For instance, cut left button, cut right button, CUTTER button and Open File button.
5. Trim and Cut any video clips. You can crop any duration of a video after opening it in this software.
6. Easy and user-friendly to use. You don't have to learn any professional video edit skills; you will know how to use it once you open this tool.
Top 2. Any GIF Animator
Any GIF Animator is a simple little program to create GIF animations for your video websites, blog, forum profile or chat conversation. You are able to make fanstansic avatars without any professional IT skills and knowledge about videos and images. Moreover, you are able to copy the link of online video websites and click "Convert" to perform converting. If the original video is with big size, to trim and crop it is allowed with this tool. You are permitted to edit GIF parameters such as width and height.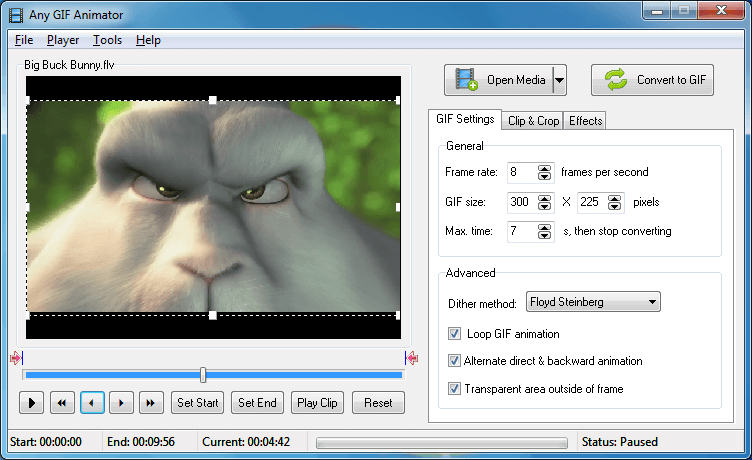 Top 3. Cute Video to GIF Converter
Cute Video to GIF Converter is designed to convert diverse video files into GIF animations. It supports a large number of video file tpes such as the familiar AVI, MP4, WMV, RMVB and MPEG. Audio track formats like MP3 and WMA are supported as well. It enables you to preview video and GIF in the user interface. You are able to customize the start and end position and choose the duration of outputed GIF image.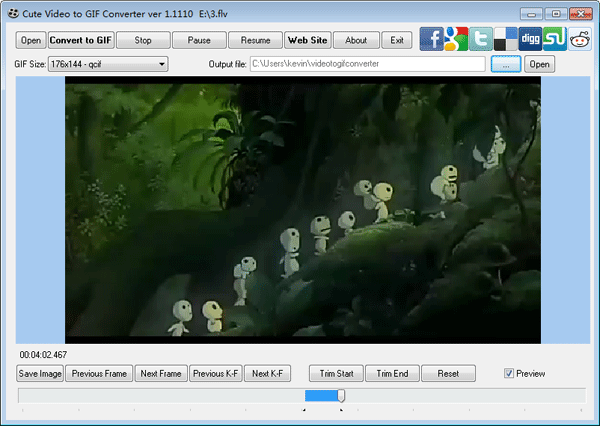 As you can see from the above introduction, it's really just like a magic to convert video to GIF on Windows computer! Now don't be shy, just try one of the top video to animated gif converters immediately. You will enter a brand new world and enjoy the process of performing dynamic pictures.