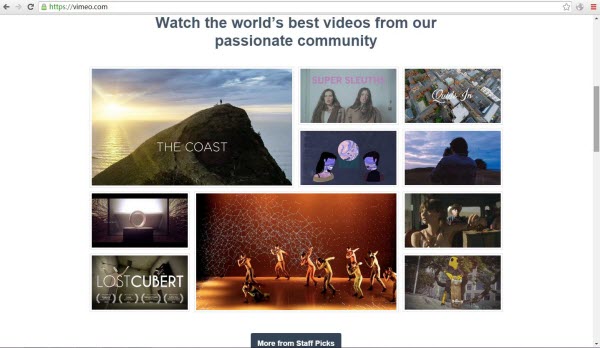 Love the beautiful background music on Vimeo? Wanna play Vimeo music videos on Android phone? Vimeo doesn't allow to you download video clips, let alone convert Vimeo videos to MP3, but there are additional tools to help you download and convert Vimeo videos to MP3 format, which is the most popular format and be supported by MP3 player and mobile phone.
Here is easy tutorial that help you save music from a Vimeo video as an MP3.
How to Convert Vimeo Videos to MP3 Format?
If you have some Vimeo videos saved on your computer, you can simply convert them to MP3 with Adoreshare Video Converter which enables you to extract MP3 audios from Vimeo video (We don't recommend online Vimeo to .mp3 converter for security concern). Free download the right version from 2 versions (for Windows 10/8.1/8/7 and Mac OS X 10.10/10.9/10.8).
Step 1: Import your Vimeo on your computer by dragging and dropping them to the software interface, or clicking "Add Files" and navigate to the folder and add your Vimeo files.



Note

: Don't have local Vimeo videos?

Download

them firstly.

Step 2: Go to the format window and select "Audio" and "MP3" as the output format.


Step 3: Start Converting


Extra Tips: 3 Tools to Download Vimeo Videos to your Computer
When you browse videos and music on Vimeo, downloading a favorite video for offline viewing has probably crossed your mind. Here are 3 tools that let you download Vimeo videos.
KeepVid: Keepvide.com is one of the most popular way to grab videos from Vimeo. Just head to keepvide.com and copy the URL of the video you want to download and paste it in the bar at the top. Click "Download" next to the bar. You can download the video in FLV, MP4, or WebM format.
Jdownloader: It is a download manager that comes with a lot of functions to make downloading Vimeo and other video files a breeze. It's available for Mac, Windows and Linux. It can let you download several files at once. You can run this app on Java 1.5 and even higher versions.
Windows/Mac Video Downloader: You can download a program for your Mac or Windows computer. For Mac, check out Mac Video Downloader. Windows users can try Windows Video Converter. Both programs have gotten solid reviews to download Vimeo videos.