You may have taken some MP4 videos of traveling or happy time with your camcorder. You may have downloaded some amazing MP4 movies. You may have tried to burn MP4 to DVD on Mac by iDVD, then find iDVD can't support the video codec and fail to burn. Now you want to burn MP4 to DVD or convert MP4 to DVD so that you can watch videos on DVD player or TV in the much easier way. This article will share top 3 free MP4 to DVD burner for Mac. With this tool, you can convert and burn MP4 videos to DVDs on Mac free quickly and easily.
Top 1: Pavtube DVD Creator for Mac
Pavtube DVD creator for Mac (http://www.pavtube.cn/dvd-creator-mac/) is the free MP4 to DVD Creator on OS X to help you burn all kind of videos, such as AVI, MKV, WMV, MXF, MOV, DivX, XviD, MP4, VOB, etc to DVD on Mac. It can work on Mac OS X 10.8 Mountain Lion, 10.7 Lion, 10.6 Snoe Leopard and 10.5 Leopard. It supports standard video files (exclusive high-definition files). It also offers 3 presets of menu template.
Editor Review: Pavtube DVD Creator for Mac is easy to use and can burn/convert videos fast, however, it can't burn images to slid show and doesn't support the newest Mac OS X 10.9 Mavericks and OS X 10.10 Yosemite.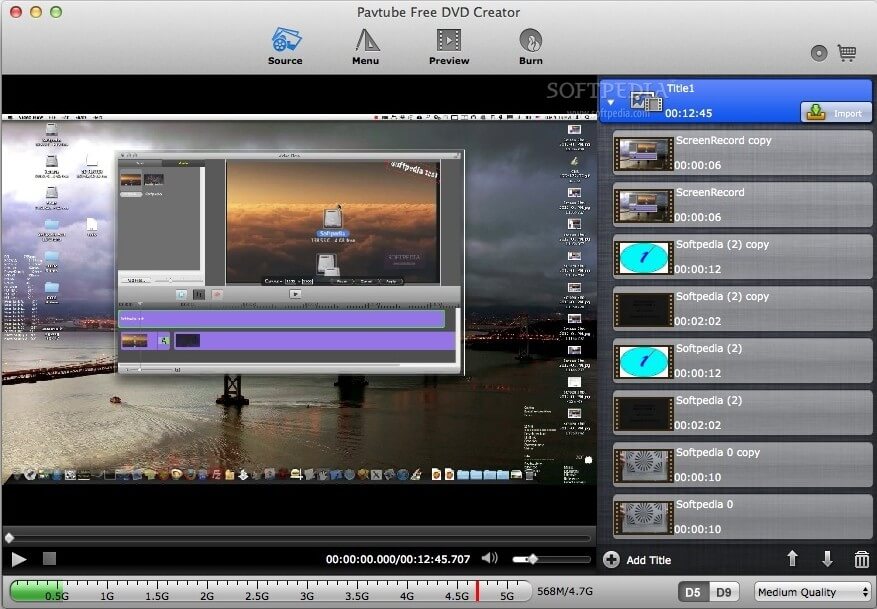 Top 2: Burn
Burn (http://burn-osx.sourceforge.net/Pages/English/home.html) is a DVD creator free on Mac OS X. You can convert and burn audio, videos, pictures to discs and it's also capable of coping data as well as audio discs with its simple interface. You can choose different file systems to share different OS with people. This tool can create standard Audio-CD discs with ease. And a wide range of video discs can be made from Video CD to DVD Video discs.
Editor Review: Though Burn is very simple and easy to use, meanwhile offers different tabs for different burns, it doesn't feature much documentation or help.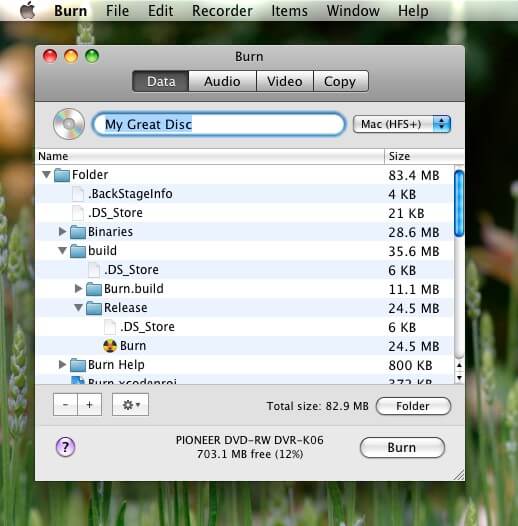 Top 3: Burn X Free for Mac
Burn X free (http://burnx-free.en.softonic.com/mac) is free software which is very fast and simple to work with and provides easy burn with multiple sessions in a hybrid format for compatibility with other platforms. This software is available only for Mac OX. You can burn a CD or DVD by dragging and dropping files or folders to the main window. The size of the program is about 1.1 MB.
Editor Review: Burn X Free for Mac has good looking user interface. It can burn files to the maximum capacity of the disks. However, the most disadvantaged is that it has a basic activity.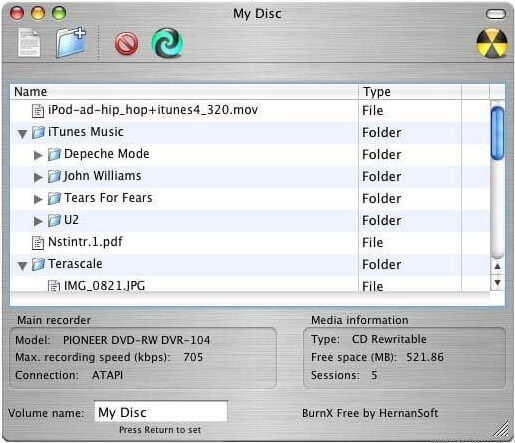 Although above software is available to burn MP4 to DVD free on Mac. But I still believe the professional program will be safer and more powerful. Alternatively, the best free MP4 to DVD Creator for Mac - Adoreshare DVD Creator for Mac is here for your reference.
The Best Free MP4 to DVD Creator for Mac Alternative
Adoreshare DVD Creator for Mac is a comprehensive DVD burner for Mac users to convert and burn MP4 videos to DVDs easily. Thus you can watch them on TV using any home DVD player.
It can burn any MP4 video to DVD on Mac, including downloaded videos from YouTube, Facebook, Vimeo, etc. or self-made videos with phones.
This software works well for all DVD Burners and DVD Discs. The supported DVD Burners are including EZ Dupe, Buffalo Technology, Pioneer, ASUS, Samsung, LG, Maxell, Super Drive, Philip, Sony, BenQ, OVK, etc. The supported DVD discs are including DVD-5 and DVD-9 (dual-layer DVD), DVD-R, DVD+R, DVD-RW, DVD+RW, DVD+R DL, DVD-R DL, DVD-RAM.
It offers you the best user experience. You can burn multi-files simultaneously with high quality at an incredible speed. You can also burn MP4 videos either to DVD folder or ISO files as you like. It won't cause the slow speed of conversion and frequent error occurring while burning.
You can edit and touch up videos by adding pictures, text watermarks or setting background music to DVD videos.


Download the best free MP4 to DVD Creator for Mac alternative--Adoreshare DVD Creator for Mac and have a trail now!