"I was looking for a free software to remove DRM from an iTunes 10 movies so I can put it on my Android phone, but all software trials have a 2-minutes limit. Where can I get free DRM removal software that can convert unlimited time for iTunes files?"
-----Patten from Yahoo! Answers
Are you searching for DRM removal freeware as hard as Patten? Don't waste time any more. Here we collect 4 popular freeware for removing DRM copy protection from movies, TV shows, music, audiobooks purchased from iTunes, Audible, Amazon Instant Video, etc. Free DRM removal software download links are offered here as well.
1. myFairTunes 7.0.2c
myFairTunes is a specific freeware DRM removal software for iTunes M4P music. It is a 359KB size, which won't take too much memory. But it only supports Windows 9x/ME/NT/2000/XP/ 2003 and iTunes 7.5 or below. It has not upgraded for quite a long time. What's more, it can only convert iTunes M4P music to MP3. And settings for music quality, output audio file size and output preference are not allowed.
If you like, you can download from:
http://www.softpedia.com/get/IPOD-TOOLS/Other-IPOD-tools-Updates/myFairTunes.shtml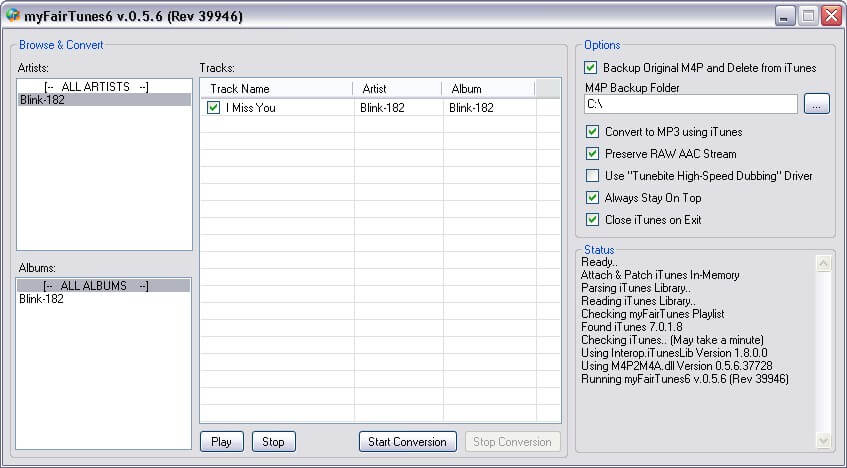 2. FairUse4WM 1.3
FairUse4WM is another free DRM removal tool that is popular. It mainly aims at eliminating DRM protection from Windows Media files (.wmv, .asf, .wma). It requires Windows Media Player installed (version 10 or later) and only works with individualized DRM files. Besides, FairUse4WM can't crack DRM license. You must have VALID license files on your hard drive and be able to play the DRM protected files without restrictions. FairUse4WM for Windows 7 is not available yet.
You can get this shareware from:
https://2ra5-downloads.phpnuke.org/en/c68434/fairuse4wm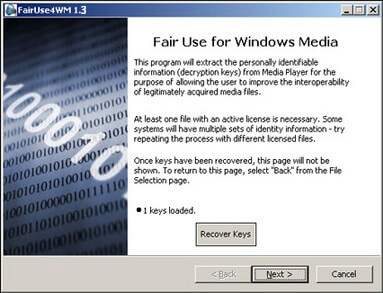 3. Requiem
Requiem is a program that removes Apple's DRM (called FairPlay) from songs, movies, TV shows, and ebooks purchased on iTunes. It is compatible with Windows (Java installation is required) and Mac OS and must be run on a computer that is currently authorized to play DRM files. It is merely decrypting files instead of deciding or re-encoding. With this free DRM removal software for iTunes movies, music and other videos, you can play all of them on non-Apple-approved devices. However, Requiem does not remove DRM from files with rental licenses.
Download this DRM removal shareware from following links:
Requiem for Windows: http://download.digiex.net/Apps/Requiem/requiem-4.1-win.zip
Requiem for OS X: http://download.digiex.net/Apps/Requiem/requiem-4.1-mac.zip
4. Calibre
Calibre, a free e-book computer software application suite on Windows, Linux and Mac OS X, which allows users to manage e-book collections as well as to create, edit, read and convert (within DRM restrictions) e-books. It supports a variety of formats including the common Amazon Kindle and EPUB. Conversion and editing are easily applied to appropriately licensed digital books, but commercially purchased e-books may need to have digital rights management (DRM) restrictions removed. Calibre does not natively support DRM removal, but may permit DRM removal after the installation of plug-ins with that functionality.
Get this freeware from the link:
http://calibre-ebook.com/download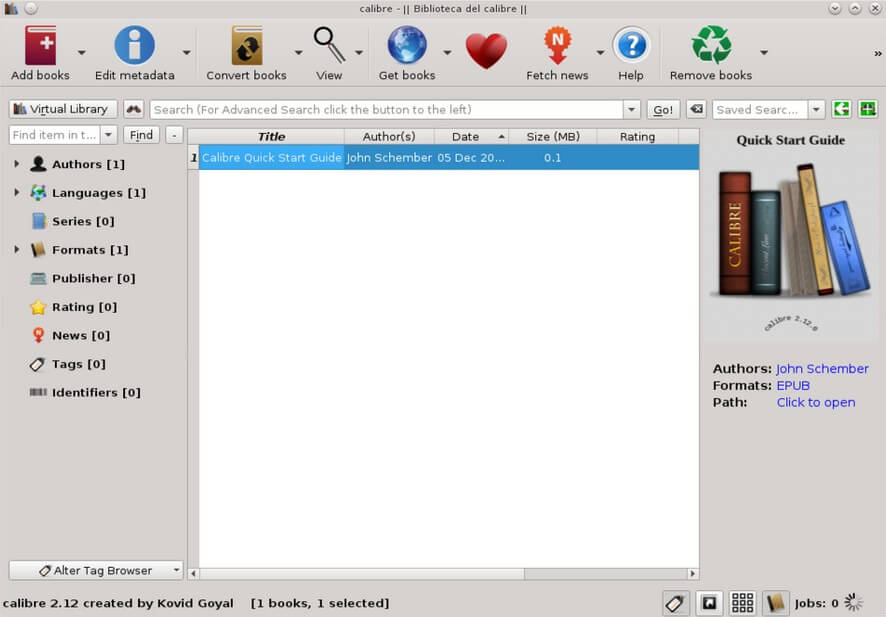 All of these free DRM removal software for ebooks, iTunes movies, music, etc. are very popular. But inevitably, none of them are perfect. You should have a clear about them before deciding which one to choose.